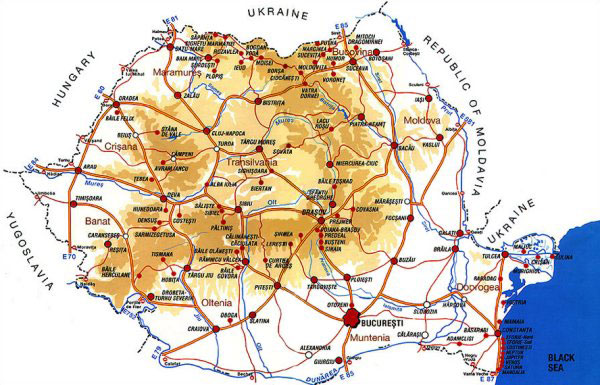 Surface: 237, 500 Km2


Capital: Bucharest (Bucureşti) (2 million inhabitants)

Official Language: Romanian

Politics: The Romanian government consists of two chambers, Senatul (The Senate), and Camera Deputaţilor (The Chamber of Deputies). The members of both chambers are elected every four years. The President appoints the Prime Minister.

Administrative Info: 40 counties, each having a Capital City.

Medieval Polities: Moldavia, Walachia or Ţara Romānească (situated between the Southern Carpathians and the Danube) and Transylvania.

Population: ~ 22,000,000 inhabitants

Ethnicity: Romanians (89.1%), Hungarians (8.9%), Germans (0.4%), Ukrainians, Serbians, Croatian, Russians, Turks and Romany (1.6%). Other 0.2%.

Religion: Orthodox (86.8%), Catholic (5%), Protestants (6%).

National Day: 1 December.

Local Time: GMT + 2

Currency: 1 leu (plural "lei")= 100 bani. Romania's legal tender is the Leu (plural lei). On 1 July 2005, the leu was subjected to revaluation so that 10,000 old lei, in circulation on that date, was exchanged for 1 new leu (RON). The process will prepare Romania for the adoption of the euro, which is expected to take place several years after EU accession. Romania is due to join the EU on the 1st of January 2007. *According to this reference, Romanian has "77% lexical similarity with Italian, 75% with French, 74% with Sardinian, 73% with Catalan, 72% with Portuguese and Rheto-Romance, 71% with Spanish.
For photos visit http://www.poze-romania.ro
For more information please visit the Wiki pages on Romania